---
Audemars Piguet, one of the most consistently innovative and audacious high horology manufactures, has done it again.
To celebrate the 30th anniversary of the iconic Royal Oak model line, Audemars Piguet introduced the Royal Oak Concept Piece #CW1 at SIHH, amidst great pent up anticipation and quite a bit of "smoke and mirrors."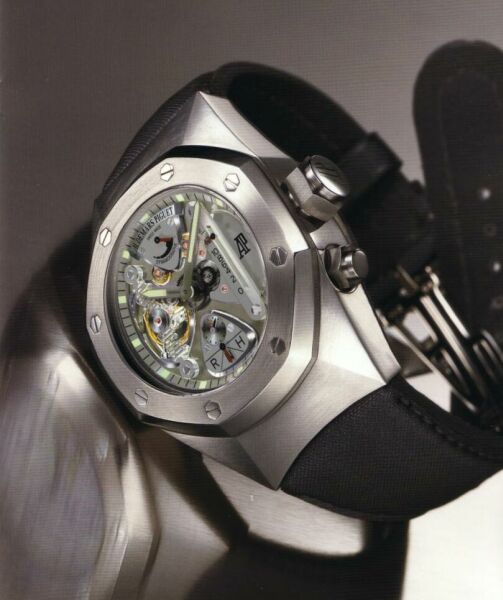 AP Stock photo
The Concept Watch is both radical and comfortably familiar, a combination rarely encountered in cutting edge designs. With its main body fashioned from Alacrite 602, a space age alloy previously used primarily in aerospace and medical applications, and a revolutionary new shock absorption design for the tourbillon cage, as well as the new crown function clutching system, the CW1 is conceived and produced for the physically active high horology aficionado of the 21st century.
It is only fitting that Audemars Piguet, with its history of groundbreaking use of new materials and methods - titanium, tantalum, rutilated crystal, electroforming, wire erosion - and for a model like the Royal Oak, one of whose key distinctions was the original and groundbreaking use and treatment of steel as a precious metal, that the next major evolutionary iteration would be again in a revolutionary metal.
Alacrite 602 is a new super alloy consisting of 57% Cobalt, 31% chrome, 5% Tungsten, with trace amounts of carbon, silicon, and iron. This particular form of alacrite has a Vickers hardness rating of 430. Extremely difficult to machine, each Concept Watch case requires nearly 60 hours to complete (compare to just under 2 hours for each Royal Oak in stainless steel, itself already considered one of the most difficult and time-consuming cases in high horology to produce.)
As a celebration and homage to its genetic forebear, the CW1 retains the trademark three plane octagonal bezel with exposed hex screw heads. The bezel is machined from high grade titanium.
Love it or hate it, very few have bland feelings about it. The main case body itself has been evolved subtly yet distinctly - the sharp, austere edges and flat expanses of the original Royal Oak have been softened with gently rolling surfaces, the oblique geometry extending the transitions of the upper and lower sides of the octagonal bezel all the way to the lugs, for a more integrated continuation of the trademark shape.
I had the opportunity to chat with the head designer for the CW1. The weight of the success and heritage of the Royal Oak was such that, for several years after he was brought onto the team responsible for the Concept Watch, he did nothing but think about the essence of the Royal Oak, before he dared lift drafting pencil to paper. And no, Mr. Gerald Genta had nothing to do with the design of the CW1.
The lugs transition directly into a special leather backed fiber strap that is both strong and comfortable, surprisingly so. Normally, carbon or kevlar fiber straps are stiff, thick, and uncomfortable.

This one is supple, and with the leather backing on the wrist side, there is none of the chaffing that is all too common with fiber straps, natural or otherwise.
For the deployant, Audemars Piguet has designed one of the most stunningly beautiful, watch-head-complementary buckles I have ever seen...I was instantly smitten, and even now, several days later and many thousands of miles away, I can still clearly see the sleek techno-aero design in my mind's eye, as it held together the opposing fiber strap ends.
---
Movement Caliber 2896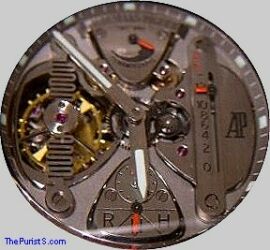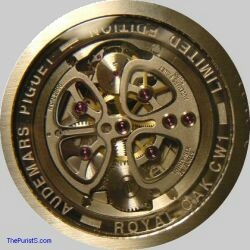 For the Royal Oak Concept Watch, Audemars Piguet let loose the technical wizards at Renaud et Papi. The caliber 2896 is not based on any previous movement blank or ebauche, not even as a starting point. Completely and radically new, "from the ground up," every major structure, plate, sub-system and assembly is conceived and produced in-house. A fine way to end, once and for all, the over-emphasized and increasingly tiresome debate, "is it in-house?"
All movement structures and supports are machined or formed from high grade titanium, and functions include, starting at 12:00 -
Dynamographe - shows instantaneous torque from the mainspring;

linear power reserve indicator, calibrated in barrel turns (one barrel turn equals approximately 6 hours of power reserve)

sub-second and crown function setting indicator (Remontoir / Neutre / Heures) (French for winding / neutral / time setting in English)

Tourbillon, with electro-eroded titanium shock suspension, giving a reported 50g's (!) of shock protection
What is nearly impossible to convey, in pictures or in words, is the sheer radical beauty of the movement, unlike any movement previously seen. There are those that might be initially off-put by the industrial-high-mech look of the plateaus and clear geometric shapes of what would normally be the dial, with its asymmetrical symmetry; the clear segmentation of areas of the dial and back. Yet, there is also the startlingly refreshing return to the traditional frosted gilt finish of two centuries ago, a welcome relief to someone overdosed on Geneva and Glashuette stripes...
---
I am smitten with this watch. Even in its three dimensional holo-mirror display, as a centerpiece of the 30th Anniversary Royal Oak pavilion that will go on its road show later this year in Europe, the CW1 is impressive - massive without being monstrous, substantial without being cartoonish. (At the time of this brief introductory write up, in the middle of April, just after SIHH 2002, it is still undetermined and undecided if the Royal Oak Pavilion Tour will include the US, due to its complexity and cost)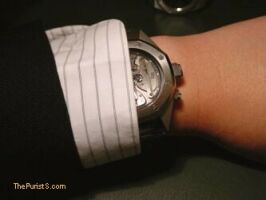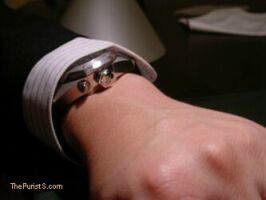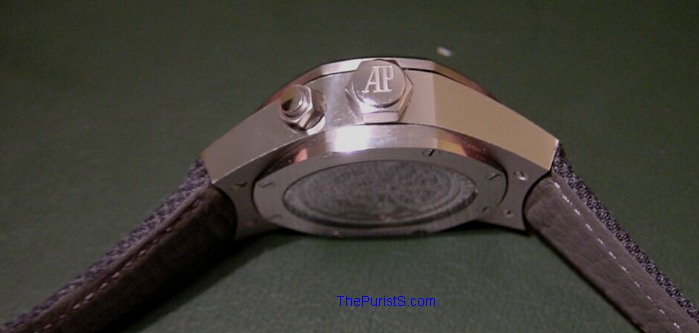 Though the case has a large apparent size, it is surprisingly wearable. Because of the overall camber of the case from lug edge to lug edge, it does not overwhelm. It is most likely larger than the original Royal Oak Offshore Chronograph (though I did not have access to a caliper or tape measure to confirm) yet it sits much more comfortably on my wrist. I would guess the thickness at 16mm +, but because of the case design and choice of material, in fact, the Concept Piece is not at all unwieldly, striking a very comfortable balance between volume and mass.
A tough, extreme sports type of watch that also pays homage to the traditionally delicate world of haute horlogerie, the CW1 proudly carries on what the original Royal Oak started in 1972 - a neat concept that has successfully transitioned to the real world.
ThomasM
---
Audemars Piguet Discussion Forum | ThePuristS Home Page All photos, except as noted, are taken by and from ThePuristS.com private collection.
Copyright April 2002 - ThePuristS.com - All rights reserved. No reproduction, in part or in whole, is allowed without the express consent of ThePuristS.com
This article was written for non-commercial reference and entertainment purposes only, and no claims or warranties are made, expressly or implied, for absolute accuracy of statements or specifications, although considerable efforts have been made to ensure factual correctness at the time of writing. All trademarks and copyrights remain the possession of their respective registered owners.