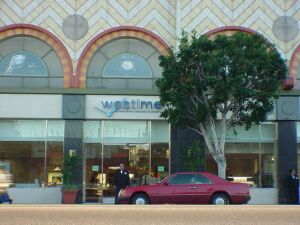 TO CELEBRATE the opening of the beautiful new Westime Watches store in Los Angeles, Glashutte Original co-hosted a by-invitation-only reception on December 14, 2001. Featuring some excellent German wines (including a very nice Spaetslese and a not too sweet Riesling Eiswein) along with endless platters of very tempting desserts and hors-d'oeuvres served by even more tempting servers.
From the dedicated valets stationed right outside the tall glass double doors, to the large open space - about 6000 square feet - the new store is a gorgeous design., spacious without inducing agoraphobia.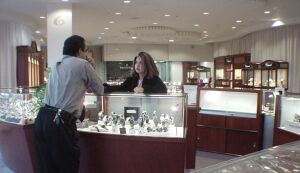 A top executive and a sales promotion manager flew in from Germany for the event, as well as the US president and national sales manager of Glashutte Original NA.
G.O. NA excutives, and a manager from G.O. GmbH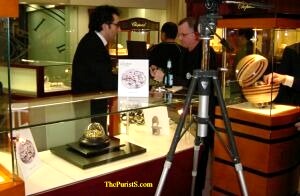 The complete line of Glashutte Original for the US was on display and available for up close viewing. Two of the stars of the showing were the Helwig Flying Tourbillon 2, a limited edition of 25 pieces, and a Julius Assman enamel dial piece. The J. Assman Enamel piece is unique in that the case separates, so that the cased movement and dial can be removed from the wristwatch carrier, and thus worn as a pocketwatch.
That's it there in the huge "egg" over on the right side of the picture. Unfortunately, I was not able to get a good picture of the J. Assman, but below is a stock photo for reference.
In the center of the picture is the massive scale mockup of the PanoRetrograph movement, cal. 60. I was told that this is handmade, and is available by special order, for a little less than a new base Toyota Camry.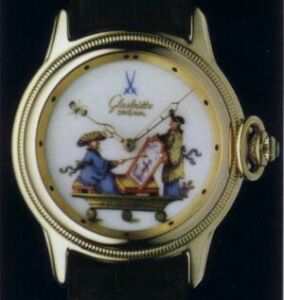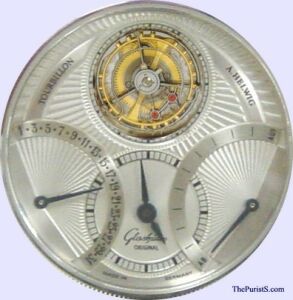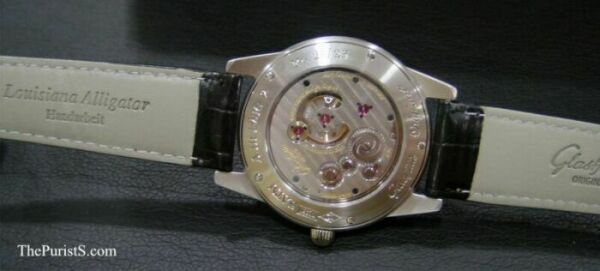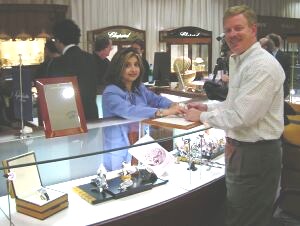 Fellow online watch discussion enthusiast Steve Gamble, who earlier this year purchased a rose gold G.O. Senator Perpetual Moonphase Big Date to commemorate his 50th birthday, was there as well.
Steve is quite a fan of Glashutte, and took this opportunity to look closely at some of their rarer pieces. He also had the tang and buckle on his Senator Perpetual changed to the newer G.O. deployant.
No, Mrs. Gamble, they were not holding hands. :-)
They were looking at this: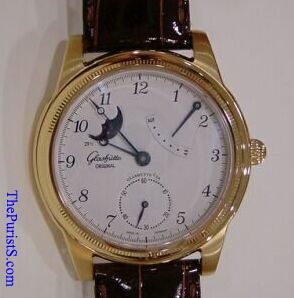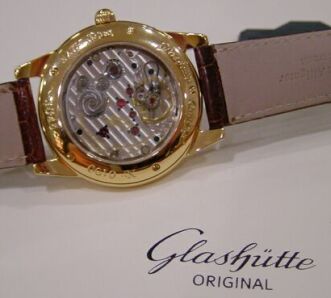 1845 Klassik Moonphase Power Reserve
ref. 49-03-04-02-04, cal. 49
All in all a most pleasant evening, one that any WIS would enjoy. Good wine, good food, inspiring watches in a beautiful setting...What more could a WIS ask for?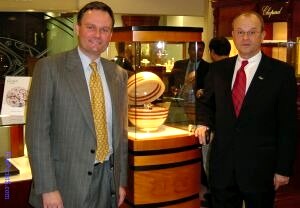 Thank you, Glashutte Original
---
ThePuristS.com Home Page | The Glashutte Original Forum
Email Us | Sign Guestbook.

Copyright December 2001 - ThePurist178.com - all rights reserved